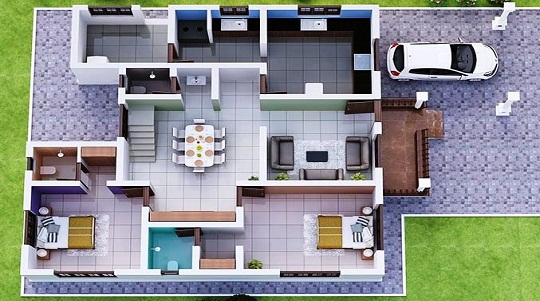 Architect Plans | House drawings |
Best architect in rajasthan | Jaipur
A major portion of income or savings of a person goes for house or home. Thus to proper utilize this money, one should make his house with proper planning and designing. For this purpose one should take Architect Plan effectively.
Main reasons to get architect services in house or home architecture are –
Architect Design –Architect designs are necessary to make a functionally viable and aesthetically appealing house. It means architect designs provide better functions and form to a house.
Architect Drawings–Architect drawing is a tool to implement a house on the ground. It illustrate the architect designs and plans to the owner, engineer and masons.

Architect plans – Architect plans are made with according present and future needs. Architect planning represent, how different activities are managed in house in current and future scenario.
Thus to make a better quality house, one should need good architect services to get architect design, architect drawings and architect plans. These are the main components of architect services.
Proposal home plans or house plans –Firstly one should get proposal plans for his building according his requirement and space. The house plans or home plans should fulfill client desire and expectation.
3D Architect Drawings –Based on proposal plans and elevations (which are in 2 D drawings form), 3D architect drawings for interior and elevations are made.
Working house drawings or home drawings –After finalization of proposal plans and elevations working house drawings or home drawings are made to implement architect plans and architect designs to the ground.
Tendering and finalization of contractors –In this process contractor and materials specifications are decided to the help of the client. All possibilities are taken care of according to budget of owner.
Implementation of architect plans –In this stage erection of building starts according to architecture plans of that building. Where an architect supervise a building and give suggestions and clarifications to the owner and contractor. And architect makes building as per planning and designing.
Completion of building –After completion, a completion certificate is issued by an architect and necessary improvements are suggested after final checking.
In home architecture best architect drawings and architect designs are got in these different modes. Where one can compare architect rates and best architect services on the basis of reasonability and suitability.
Offline architect services –This is a conventional mode to get architecture plans and designs. It is a best mode where cheap and best architect services are available nearby.
online architect services –If one wants to get reasonable architect services with quality architect designs, it is a best mode to choose it.
In the field of online architect services the "D Architect Drawings" is a big name to take best architect designs and architecture plans in the field of housing architecture. These are some most popular product from this site –
Free drawings or Free house plan –In this free drawings or free house plan product prices of architect drawings for the house drawings or home plans are start from zero for Indian clients. It is most popular product of " D Architect Drawings". To get these drawings one has to visit us Darchitectdrawings or email at info@darchitectdrawings.com
Paid compare architect services rates –A complete set of architect services are got in this product on the cheap and reasonable rates with international quality. "D Architect Drawings" rates and fees are comparable to other architects. Here you can find high quality house drawings at very cheap price.
Thus this study will help in getting best architect design and drawing in the field of home or house architecture. A house with better planning makes best use of money to a building or house owner.
https://www.darchitectdrawings.com/wp-content/uploads/2017/08/3D-design1.jpg
301
540
Manish Gupta
http://www.darchitectdrawings.com/wp-content/uploads/2017/04/logo_png.png
Manish Gupta
2017-08-31 11:18:06
2021-10-26 10:27:14
Architect Services / Architect Designs / Architect Drawings at a Glance A review on House / Home Architecture 2D/ 3D Drawings / plans